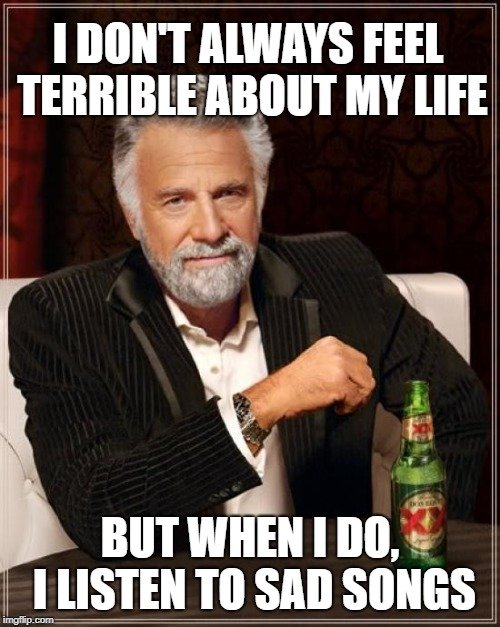 Last time I wrote about practical ways in which churches can work to address the concrete needs of those affected by mental illness and emotional distress in their congregations. That frankly is something that is not too difficult or controversial. The more difficult task for clergy is how to address mental health during the service. Here as well I think a holistic approach is best and necessary. Every aspect of the service, from choice of music to sermon, can and should speak to these issues.
I'm not saying that your sermon should become a TED talk or psychotherapeutic intervention. This is still about worship and word, but we need to talk frankly about how worship and word have generally failed to address emotional and psychological distress well and how we can do better.
First let's talk about worship: to be frank, contemporary worship does not reflect the full experience of God's people. It's extremely important to reflect on our worship practices, their implicit and explicit goals, and how the congregation is involved in worship. Is our worship escapist? Does it represent the whole body of Christ, those rejoicing and those mourning? Can we be our authentic self in worship before God? The modern take on Christian worship music is that it must be "positive and encouraging" all the time. This frankly is neither biblical nor realistic.
Consider that the Psalms, the primary source for worship in the Jewish tradition, has songs not only of praise but of lament and sadness.
"My life is consumed by anguish and my years by groaning; my strength fails because of my affliction, and my bones grow weak." Ps 31:10
"Record my misery; list my tears on your scroll –  are they not in your record?" Ps 56:8
"My God, my God, why have you forsaken me? Why are you so far from saving me, so far from my cries of anguish? My God, I cry out by day, but you do not answer, by night, but I find no rest." Ps 22-1-2
Most (but not all!) of the Psalms offer resolution to this anguish through recounting the presence and goodness of God for example, however our modern worship tends to skip past the sadness entirely. The unfortunate effect for many is that church has become a place where only certain feelings are acceptable: sadness is not meant to be expressed or addressed, it is to be displaced. Worship leaders may feel that they are helping those dealing with depression or anxiety by creating a positive environment. However, it can also lead to a sense of dissonance and isolation: "am I the only one here who's sad?" I recently spoke with a man who lost his spouse and while he said he is doing OK overall, when he attends church he just can't bring himself to sing hymns. I've read the experiences of others online who express similar feelings, and sometimes have left church entirely because of them.
When one is sad, the never-ending positivism of worship music can feel like a kick in the gut while you're down. Rather than help, it may actually increase the sense that "people just don't understand" or "there's something wrong with me" that many feel when they are going through emotional trouble. In Proverbs 25:20 we read, "Whoever sings songs to a heavy heart is like one who takes off a garment on a cold day, and like vinegar on soda." The point is rather clear: removing a garment from someone on a cold day is the exact opposite of what you should do. It actually does more harm than good! And pouring vinegar on soda neutralizes them both, making them both useless – as well as a huge mess.
The antidote to this is not to go full-on Radiohead (even though I would be totally up for that). I simply encourage worship leaders to recognize and incorporate the full experience of the worshipper in the service and to see those experiences as worthy of bringing to Christ's altar. Depression and anxiety are not merely things to be overcome by praise. To whitewash those painful experiences means that we are not being our authentic self before God. How can we praise God for accepting us and loving us if we are not allowed to approach Him as we truly are, whether in happy praise or sad lament?
There is actually a benefit to listening to sad music, and the same can be said for worship laments. Sad songs allow us to find words for feelings and experiences that we may find difficult to express on our own. This lets us vent those difficult feelings and keeps them from being repressed. It also helps us feel not alone in our pain, which is tremendously helpful because of the isolation felt by many dealing with sadness and grief.
Next time I'll discuss how to address mental health issues from the pulpit, including the theological and scriptural issues involved.